About Us | South Dakota's #1 Fishing Destination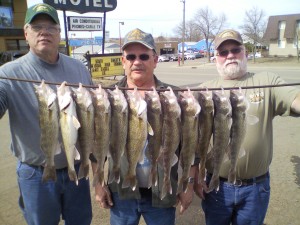 South Dakota's Finest Walleye Guide Service. We are your #1 place for to Charter our service to fish for walleye and smallmouth. No guide or charter service can compare our ability to catch fish and make sure you have a good time.
Fishing and Hunting Guide and Charter Service in Central South Dakota on the Missouri River. Lodging for the Sportsmen. We have South Dakota's Finest Walleye and Smallmouth Bass Fishing in the Midwest. Our guide service covers 135 miles of the Missouri River to keep you on the best walleye bite. With our professional service you will have the fishing trip of a lifetime.
We have guides lining up to work with us.  So we hire only the best.  Our guides work together, share information, to make sure you have a fantastic fishing trip. Our guides not only work together, but we are also great friends.  Our only ego is to make sure all the groups have an excellent day, not just one.
Our Guides
Garry Allen
Mike Allen
Curt Nepple
Eric Steichen
Brian Ward
Joel Carlson
Lee Pulse
Scott Handel
Jim Jones Jr.
Glen Eimers
Dave Henning