The Best Walleye Fishing in the US and Canada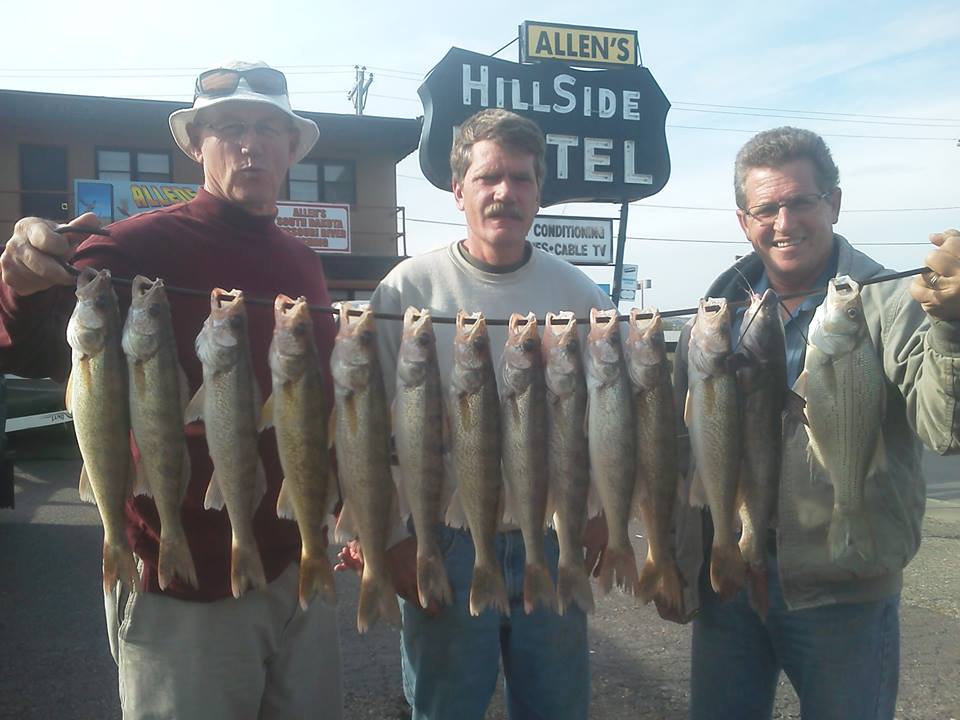 There's no question about the Missouri River being a great walleye fishery. There are lots of deep and shallow gravel pits and sunken islands throughout the entire river system. I believe there are many great walleye waters in the US and Canada, but by far there is no other area than the Missouri River near Chamberlain that will compare with the numbers of 1 to 3 pound class walleye that are caught each year. There is also the possibility of an 8 or 9 pound walleye to be caught, both on Lake Francis Case and Lake Sharpe. Lake Francis Case and Lake Sharpe are high quality walleye lakes managed by the South Dakota Department of Game, Fish, and Parks.
Allen's Missouri River Walleye Guide Service 98% limit success
The 98% limit success explains it all!! The top professional guides on the entire Missouri River system headquarter and guide out of Allen's Fishing and Hunting Lodge in Chamberlain, South Dakota. Where else could you fish walleye and have professional guides who run 18 – 20 foot boats with either 150 or 200 horse motors and with the best electronic equipment on the market and consistently catch limits of walleye everyday from April through September? At Allen's our goal is to give you the most enjoyable walleye fishing trip to be found anywhere.
Chamberlain, South Dakota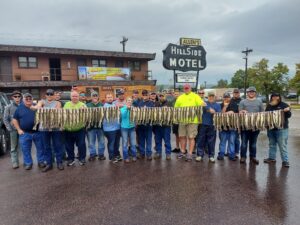 Most of you have heard about the phenomenal walleye fishing found on Lake Francis Case and Lake Sharpe. Why not try it yourself? Allen's Guide Service in Chamberlain, South Dakota has been written about in major sporting magazines because it is the place to go for outstanding walleye fishing. ESPN's Tom Miranda spent two days fishing and the camera crew got a chance to experience some fast walleye action on Lake Sharpe.
You won't regret taking the time to visit us, but you might regret it if you don't. Take the time for yourself, or make time to spend fishing with the kids. Whether it is you and your fishing buddies, a good customer, or your best friend, share the Missouri River experience.
Lake Sharpe is a beautiful and unspoiled area. In 1996, Lake Sharpe produced 98% limits from May 25th until mid-October. Garry Allen said, "There is no lake in the country that will compare with Lake Sharpe. This is the greatest walleye lake in the country."  And still is to this day!!
What makes Allen's walleye fishing in the Chamberlain area so good!!
98% LIMIT SUCCESS
The Missouri River, since construction of the dam in the early 1960's, has become some of the finest walleye production areas in the world.
The river opens up in the early spring extremely early, usually latter February or early March allowing fishermen access to the best fishing spots one or two months earlier than any other place. 1/8, 1/4, and 3/8 ounce jigs tipped with a minnow and 4 to 6 pound test line is the secret this time of the year.
Chamberlain area has the best spawning beds in the entire river system. Walleye move in from miles away in early spring to lay their eggs. In middle April during peak spawn, night fishing with rapalas along the shore line will produce limits of two to three pound walleye.
After the spawn, walleye move out of the spawning beds south towards White River, Boyer's and Elm Creek and north to the Crow Creek area. Walleye are traditionally caught on spinners and night crawler rigs in May, June and July.
Walleye return to the Chamberlain area in the fall to revisit the spawning grounds. The fishery again regains its legend with excellent walleye fishing September and October. Most of the fish are caught on minnow rigs or jigs.
Allen's South Dakota Missouri River Guide service has developed special techniques unique to the area and can almost guarantee limits every day.
Plan a family fishing trip to South Dakota
Take a kid fishing
Experience the excitement of catching walleye on the Missouri River. We specialize in teaching the skills and fun of catching walleye. It is not unusual to catch and release 50 to 100 walleye per day. Young people have a lot of fun catching and releasing our 1 to 3 pound walleye. It is a great outdoor adventure that your son, grandson, daughter, granddaughter, or any young person will never forget. Plan your fishing trip with the Allen's; a family fishing trip of a lifetime.
Fishing is not just for the men. We look forward to seeing more women join in the fishing fun. There is plenty of fast action. The guides welcome experienced fisherwomen and will also gladly accommodate and teach fishing to those interested in learning.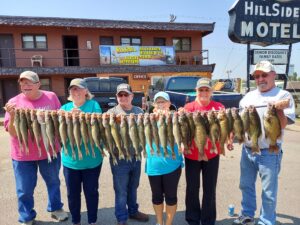 Fishing Outlook
This 2019 fishing season here at Chamberlain looks to be good again this summer. The winter fishing has been excellent with decent size fish. That is a good indication for the summer. Lake Sharpe is also looking good. The spawns in Sharpe were good and we are expecting an excellent season on the lake. Over all, you can expect another great year of fishing in the Chamberlain area.
 Try Chamberlain, South Dakota this year for your walleye fishing!