We have access to over 15,000 acres of prime Pheasant land and habitat on private land
Fully Guided Hunts with Wild Birds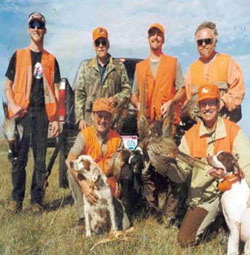 Our hunters who stayed here last fall and hunted on our land said it was the finest they had ever seen in the midwest.
Our packaged hunt includes field lunch, continental breakfast, transportation, dogs, and cleaning birds. We have labs and shorthairs. If you have a good hunting dog, bring the dog with you, along with plenty of shells.
We do not mix any groups
Comfortable Accommodations with world class pheasant hunting. November waterfowl hunts could be included with a packaged pheasant hunt depending on migration.
Experience a South Dakota Family Hunting Atmosphere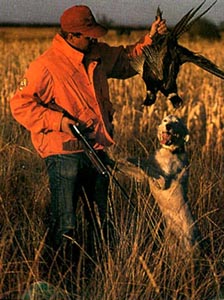 Give us a call. You won't regret taking the time to visit us, but you might regret it if you don't. Whether it is you, your hunting buddies, or a good customer, share the South Dakota hunting experience at Allen's.
Pheasant hunt of a lifetime. Last year, 85% of our hunters who stayed at Allen's and hunted our private land got their limits, and have already booked for next year.
We can accommodate large or small groups.
Public Areas
If you prefer to hunt on your own around Chamberlain, we have maps and public shooting area brochures of the area. There are thousands of acres of public land to hunt.
Weather to Expect
October      Lows     20's    Highs     60's-70's
November  Lows     teens  Highs     40's-50's
December  Lows     teens  Highs     20's-50's
When making your next hunting trip to South Dakota, call Allen's for a trip of a lifetime.